FSCB - Full-size Chocolate Bars

"Full Size Chocolate Bars" - these standard sized treats are great for corporate promotions, special events, new product announcements, and much more.
Custom-wrapped Hershey Bars, Nestle & Masterfoods
Candy Bars range in weight from 1.4 oz to 1.9 oz,
depending on type of bar.
(For exact net weights of each type of candy bar, click here.)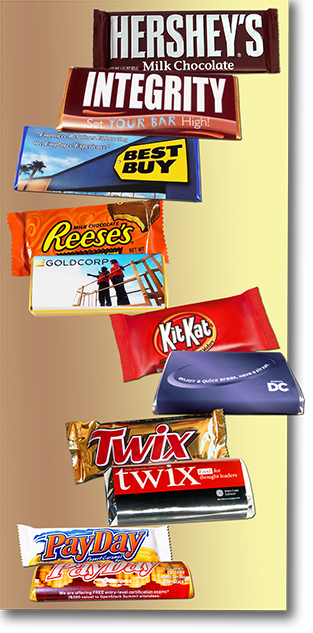 Choose from:
• Hershey's Milk Chocolate
• Hershey's Special Dark
• Hershey's Mr. Goodbar
• Hershey's Cookies 'n' Creme
• Nestle Crunch
• Snickers
• Milky Way
• Reeses
• Kit Kat
• Twix
• 100 Grand
• Butterfinger
• Payday and more...

We frequently run specials and discounts for larger quantities.
If you need a particular brand of candy bar not shown here, please don't hesitate to call and check with us for a quote.
Click here for most wrapper design templates; or here for a Twix design template.
For Special Promotions
we offer:
• "Golden Ticket" inserts or
• single color inside wrapper imprints
(at $0.25 (R) per wrapper).
To Foil or not to Foil...
...is up to you.
For that clean old-fashioned look we overwrap each candy bar with a foil in the color of your choice. We have over a dozen colors to choose from, including silver, gold, red, blue, black, green, violet, pink and more.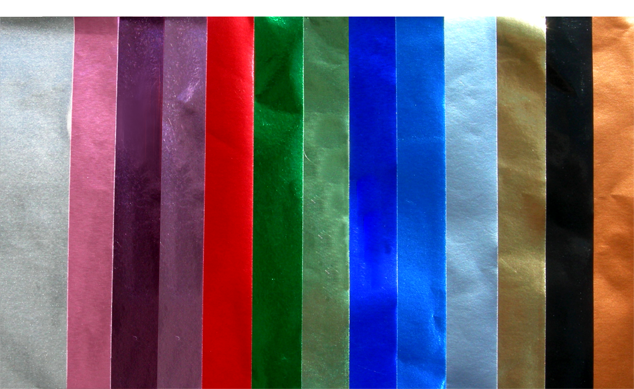 Any of our products are also available without foil.