Acrylic and Plastic Containers
keep your candy fresh and make for an overall good-looking package. Here are some of our container shapes and sizes.
You determine the fill and we customize it for you. Our personalization options for most of our containers include direct imprinting, hot stamping or full-color labelling.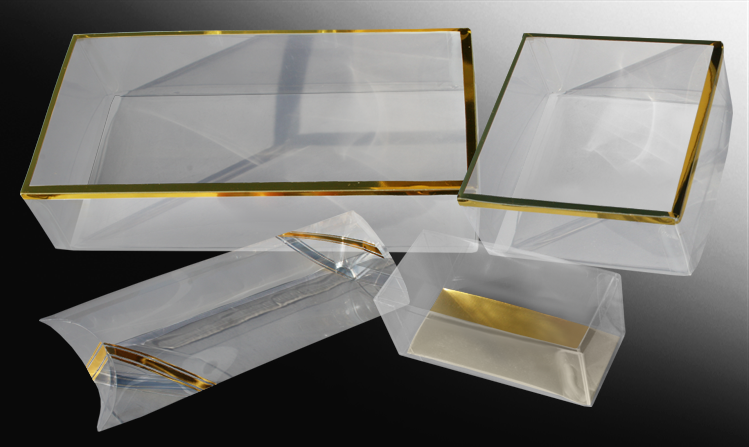 Plastic Folding Boxes
In shapes like rectangle, square, tube and sleeve. All containers have snug fitting lids or other safety enclosure. Pictured to the left is our rich looking "gold trim series".
These containers are made from plastic sheet stock.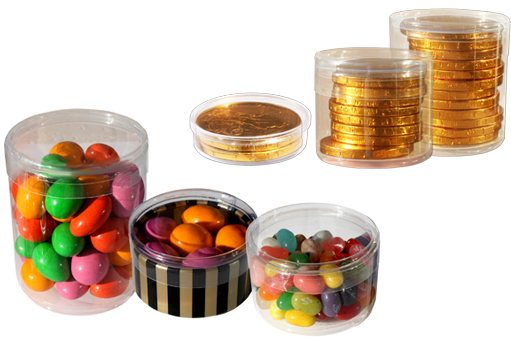 Cylinders
We carry different cylindrical containers with matching lids in plastic as well as acrylic.
Our plastic cylinders come in clear or with colored stripes, and we offer different sizes that can hold anywhere from one to 5 ounces of product.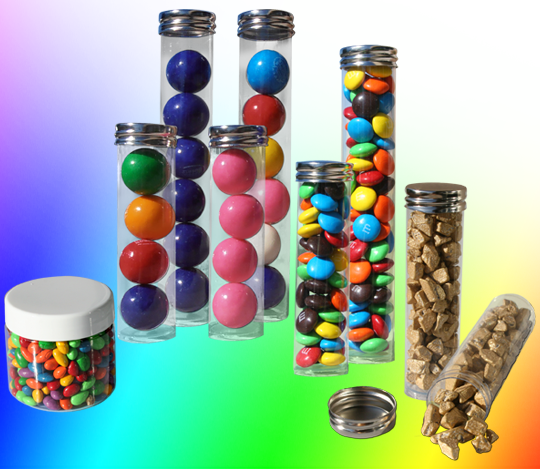 Mixed Materials
Acrylic tubes feature polished steel snap-on caps and are the diameter of a gumball. We stock these stylish tubes in lengths of 4 and 6 inches (other lengths available).
Acrylic small clear can with screw-on white lid holds 1 to 2 ounces of product.
Other Shapes
include large flat divider tubs to hold 2 to 3 types of merchandise. The lids snap on to secure the fill as well as provide a good seal.
The "treasure chest" shape is available in plastic and acrylic. Perfect to present custom coins or chocolate poker chips.
The "shotgun shell" is realistic 12-gauge size and shape, accepts food grade fills and seals it all in safely.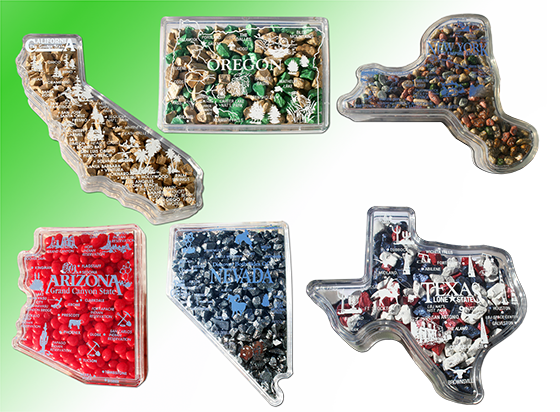 State Containers
Each acrylic State Container has its own unique fill of chocolate "rocks": There's gold in California - while Nevada contains silver - and Texas lays claim to the red-white-and-blue.
Check for your state!
We offer more containers than shown here and constantly expand our array.
Just call us

if you have any special container needs. We can source and personalize countless more hard or soft plastics to contain your promo gifts. You can choose from single color imprint, hot stamp or full color decal for your customization. Further fulfillment options are available to you through our
in-house processing.