Gourmet Chocolates - Godiva, Lindt, Hammond, Asher
GOV - Godiva Truffles
& Chocolates
Godiva is Belgian chocolate at its finest. Known worldwide for their delectable truffles, creamy chocolates and tasteful gits, the Godiva chocolatiers have been perfecting their craft since 1926,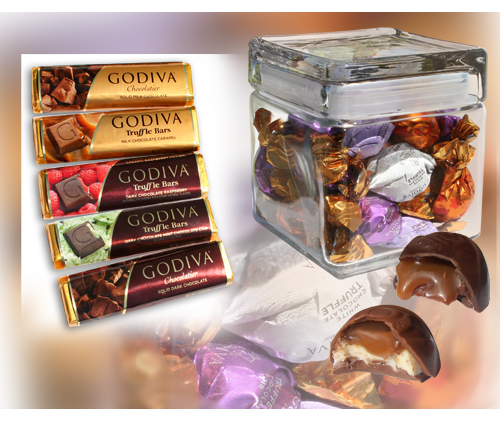 achieving the balance of timeless values and modern boldness – much like the legendary Lady Godiva, their namesake.
The Godiva product line includes a vast selection of hundreds of items: signature truffles, chocolate bars, pralines, gift baskets, gift towers and much, much more...
No matter what you are looking for, we can personalize it for you.
Godiva products are all natural,
with naturally flavored truffle fillings.

Pricing is based on quantity,
please call us for a quote.
We are currently running a special on individually wrapped truffles as well as Godiva's truffle filled chocolate bars.
These delicious gold-foiled Godiva bars
come in the following flavors:
• chocolatier solid milk chocolate,
• dark chocolate raspberry truffle,
• milk chocolate caramel truffle,

• mint chocolate chip,
• and chocolatier solid dark chocolate.
To customize these exquisite chocolates, we over-wrap each gold foiled bar with your full-color custom wrapper for a classic look.
---
LIN - Lindt Chocolate
"Chocolate beyond Compare"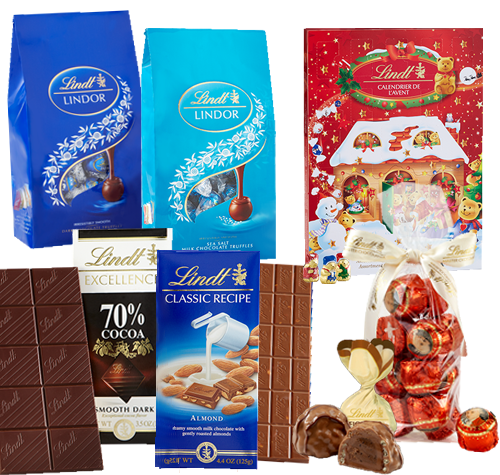 There's nothing like Lindt. Born in Switzerland, home of the happiest Alpine mountain cows. The greenest grass makes the purest cream, giving Lindt chocolates their distinct smoothness, characteristic taste, and innovative flair.
The Lindt tradition has been carried on since 1845.
Shown to the right are just a few of the most popular treats that Lindt has brought to the world: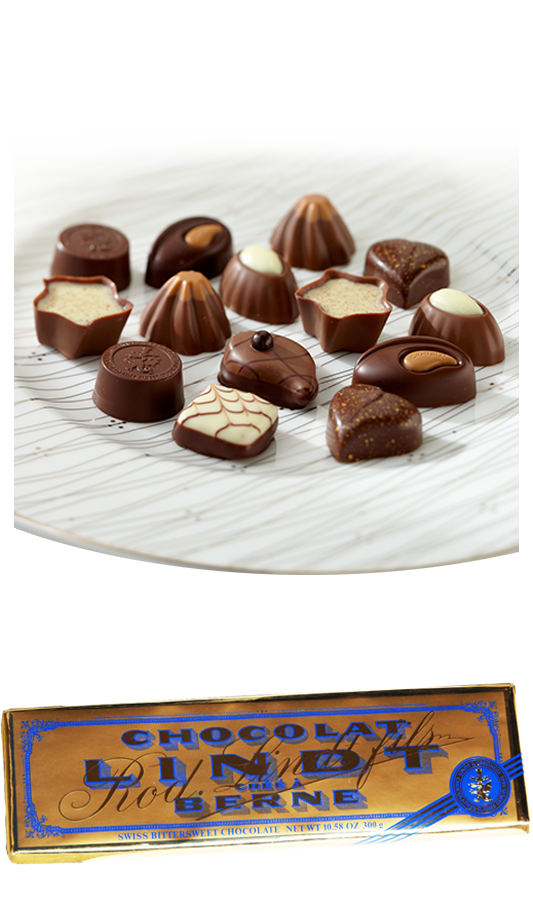 • Lindt Lindor truffles (available in the flavors of milk, dark, extra dark, caramel, sea salt, hazelnut, stracciatella, coconut and more...),
• an Advents calendar (filled with chocolate bears, one for each day in December counting up to Christmas),
• Lindt Excellence Chocolate bars (with virtually unlimited flavor combinations and varying cocoa content that is listed from 70% to 80%, 85% - even up to 99%),
• Fioretto caps that are crispy, chocolaty and creamy, and the tried and true favorite:
• Mozartkugeln, the pistachio creme filled chocolate pralines - just to name a few.

Lindt Confectionery selections are vast; we have listed only a fraction of the Lindt line here, but if you are looking for a specific product, don't hesitate to ask us. If it's Lindt, we can get it for you!
With the approach of the holiday season we are offering new gift packs and more elegant presentations, like the Luxury praline collection, or the supersize Lindt gold brick.

Find out how we can customize it all with your brand!
---
Healthy, tasty and all natural:
HAM - Hammond's Chocolates
When Carl Hammond founded his candy company in Denver, Colorado, his motto has always been "nothing is more important than quality".
Hammond's values have remained uncompromised, producing all natural, delicious and award-winning innovative products.
We offer these 2.25-ounce Hammond Chocolate Bars in flavors of Milk Chocolate, Dark Chocolate, Toffee Brittle, Sea Side Caramel, Peanut Butter Cup, Double Truffle, Caramel Mocha and many more...
We also carry the famous Hammond's Lollipops, Candy Canes, Marshmallow Caramel, Taffy, and Pillows & Straws. To ensure freshness of products, additional time may be needed for special orders.
---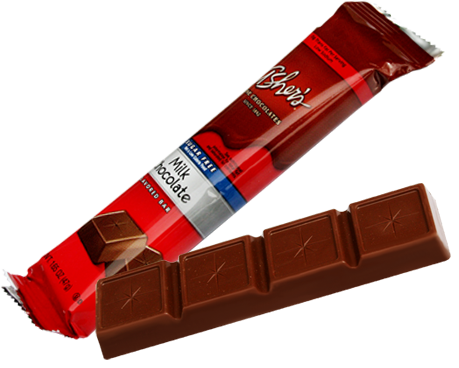 Sugarfree Chocolate Bars
With Asher sugarfree chocolate you don't have to compromise on taste. These chocolate deliver a sugarfree gourmet experience.
You won't be able to tell the difference! Our line of sugar free chocolates are highly recommended for those on a sugar restricted diet.
The 1.6 ounce bars are available in milk chocolate, dark chocolate, peanutbutter truffle and creamy caramel.
A family-owned business since 1892, this candy shop makes the finest kosher chocolates according to traditional recipes. Asher's has one of the nation's largest lines of sugarfree sweet treats including toffees, pretzel bites, jellies, mints, caramels, gummies and more...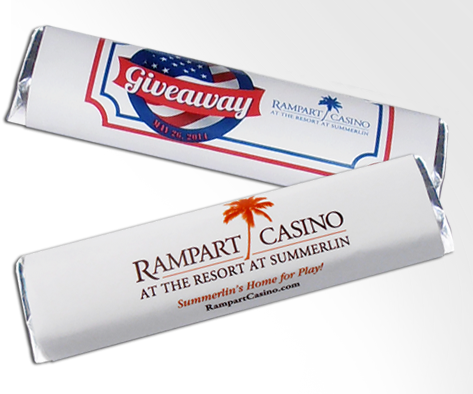 Let us customize any of these delicious treats with your brand: We can overwrap the candy bars with a full-color wrapper - with or without foil - but we also work with any of the other shapes to achieve that professional presentation so your name can make a sweet impression.