The complete List of:
KCR & KCB - Chocolate Rocks
These chocolate covered "rocks" are gluten free, peanut free, made in USA, and kosher, but above all: they are absolutely delicious.
Our rocks come in two sizes:
1) KCR: small - our Nuggets - (about 1/4" on average) and
2) KCB: large and realistic - (up to 2" large); these are our Boulders.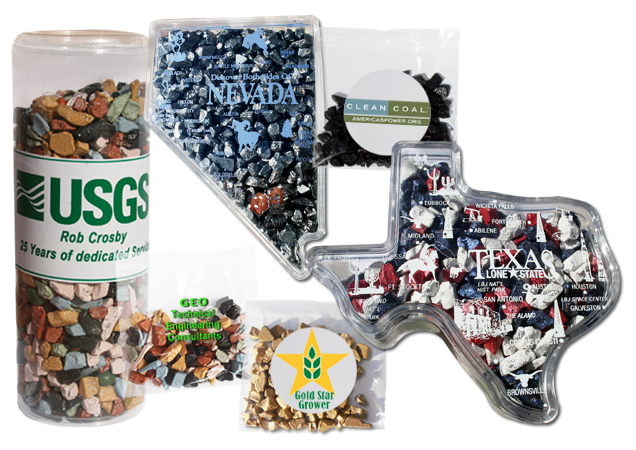 All nugget rocks and boulders are composed of solid compound chocolate and then coated with a colorful sugar shell.
Customized rock examples to the right include Coal, Gold, Patriotic and River Rock mix in various container choices available to you. To see all our container sets, click here.
Promote your business with rock filled cylinders, acrylic containers or our popular 4x4" cello bags with up to 2" circular label. All our labels are full color and full bleed. Virtual design proof available pre-production.
Price list for one-ounce bags of Chocolate Rocks by type:
Chocolate Rock Type

Description

Chocolate Rock Type

Description

Standard Mix
Chocolate Rocks

"Bright Stone"
Chocolate Rocks

River Stones

"Realistic"
Chocolate Rocks

Pastel
Chocolate Rocks

Pastel Sparkle
Chocolate Rocks

American Patriot
Chocolate Rocks

Camo
Chocolate Rocks

Valentines
Chocolate Rocks

Orange-Black/Halloween
Chocolate Rocks

Red-White-Green
Chocolate Rocks

Christmas Sparkle
Chocolate Rocks

Coal
Chocolate Rocks

Gemstones
Chocolate Rocks

Bronze Nuggets

Silver Nuggets

Gold Nuggets

Emerald Nuggets

Topaz
Chocolate Gemstones

Ruby
Chocolate Gemstones

Pink Sapphire
Chocolate Gemstones

Purple Amethyst
Chocolate Gemstones

Peppermint
Chocolate Rocks

Salty Caramel
Chocolate Rocks

Espresso
Chocolate Rocks

Nevada Mix Silver/Blue
Chocolate Rocks

"Enchanted" Lavender/Pink
Chocolate Rock Mix

Gold Boulders

Silver Boulders

Bronze Boulders

Coal Boulders

Gold-Silver-Bronze
Mixed Boulders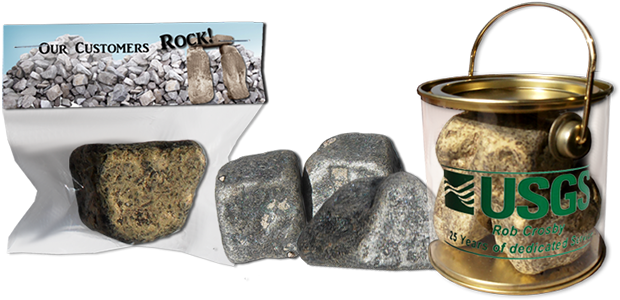 Customized Chocolate boulders in 1-ounce bag, bulk, or 3-ounce bucket.