FOB
- Fiber One Bars
Original General Mills Fiber One whole grain bars.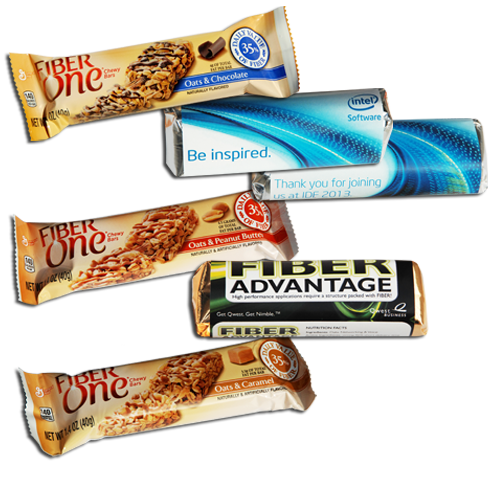 New and even better, at 140 calories each tasty chewy bar provides 35% of recommended daily fiber intake!
We regularly stock the three most popular flavors of these 1.4 ounce bars:
• Oats and Chocolate
• Oats and Peanutbutter and
• Oats and Caramel
We can also source other flavors, however extra lead time will be required. Just let us know what you are looking for and we will rush it in - factory-fresh from General Mills.
We over-wrap the original Fiber One bar with a foil (in the color of your choice) - and then apply your custom wrapper over it.

For more information about Wrappers and Foils click here.
Click here for a wrapper design template
---
FOBB - Fiber One Brownie Bars
These delicious bars only contain 90 calories at a weight of just under one ounce, which makes them high fiber, low calorie and big taste!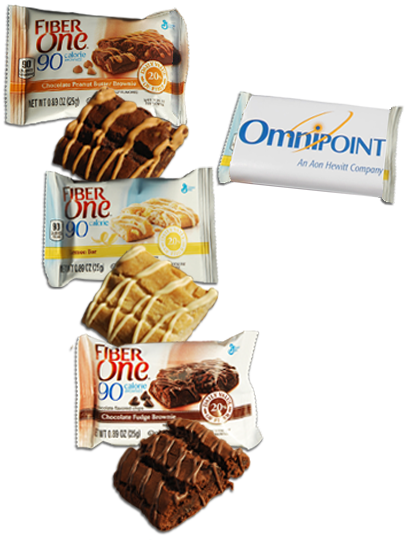 In Chocolate Fudge Brownie, Chocolate Peanutbutter Brownie, Lemon Bar, Chocolate Chip and many more flavors...
(Please note that some flavors may take a little more time to procure.)
Since Brownie Bars are soft and delicate, and protected inside a pillowy factory pack, they cannot be foiled. On Brownie bars we apply your wrapper directly over the pack.