Yes, we have Gummi Bears...
...but we also have so much more to offer in the fruity, tasty world of gummies!
Our gummy candies are unique and customizable on several levels - from branding each individual piece to labelling or imprinting a particular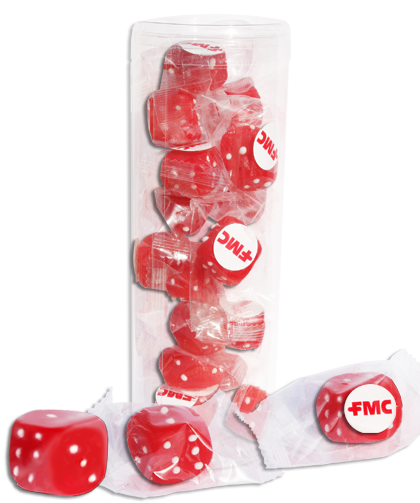 gummy-filled container of your choice.
Gummy Dice

tangy, sweet and delightful, our dice are the size of the familiar three-quarter inch red gaming dice - except these are edible.

Each red gummy is individually sealed. Customization is applied directly onto the cellophane wrapper as a full-color label. We can also fill bulk dice into various containers. Options range from clear tubes in six sizes to a variety of tins, glass and boxes.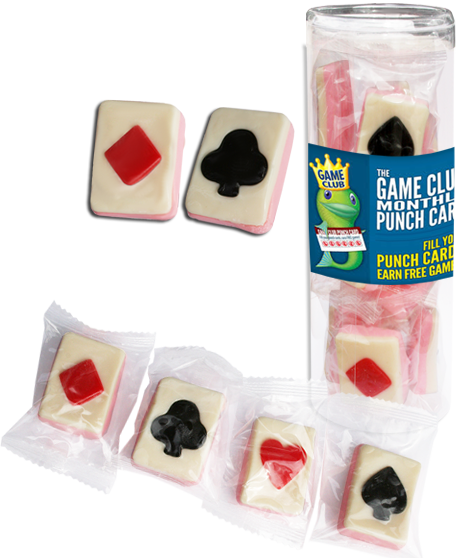 Gummy Cards

very moist and tender, this special deck of cards consists of the four suits: spades, hearts, diamonds and clubs. The cards' backs are pink and feature a soft delectable marshmallow layer.


Individually wrapped and customizable with a four-color label, or as a lot in the container of your choice, this deck certainly contains the winning hand.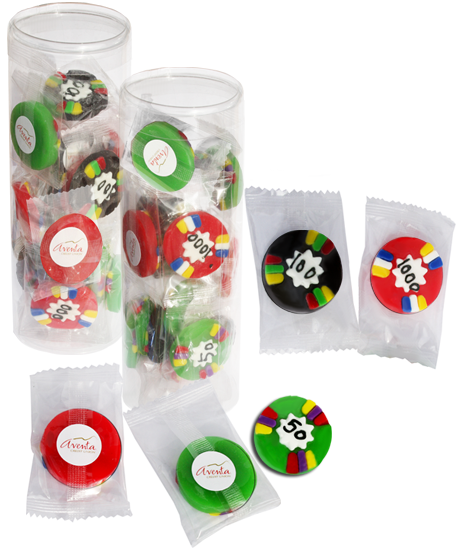 Gummy Poker Chips

Up your game with these chip sets: Our colorful gummy pokerchips come in three "flavor denominations" (cherry in red, grape in black and watermelon in green). These delicious gummies are the size and shape of real casino tokens.

Each soft gummy is individually sealed and is customizable with a four-color label or as a lot with a container of your choice.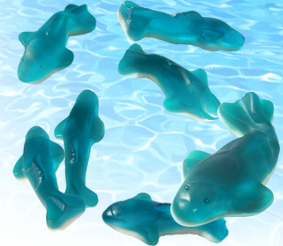 Sharks, Cherries & Coke Bottles...

We can get all the popular choice gummies in bulk for you as well.

Check out our Blue Sharks, a new twist on an old classic. Their bodies are cool blue while their white bellies taste like vanilla marshmallows.

Any gummy enjoyment is not complete without the authentic tasting coke bottles, with two layers of the fascinating flavor of Coca Cola.
And for something sour and sweet we offer traditional Cherry Sours.

Click here to view more of our bulk candy offerings.

Gummi candies were invented by German candy maker Hans Riegel in Bonn in 1922. He called his first gummi creation Dancing Bears, after the popular street entertainment at the time, and named his company Ha-ri-bo - after his own initials.