CKIE
- Custom wrapped Oreos, Chips Ahoy & Nutter Butter Cookie Packs:
• OREO -
Since its debut in 1912 Oreos are not just "milk's favorite cookie" but also have become America's #1 best selling cookie.
Each 1.8 ounce Oreo pack contains 6 cookies.
• CHIPS AHOY -
Nabisco's Chips Ahoy chocolate chip cookies have gained world wide popularity.
We customize the 1.4 ounce package, containing 4 cookies.
• NUTTER BUTTER -
Irresistibly delicious peanutbutter sandwich cookies. The 1.9 ounce packs contain 4 large peanut-shaped cookies.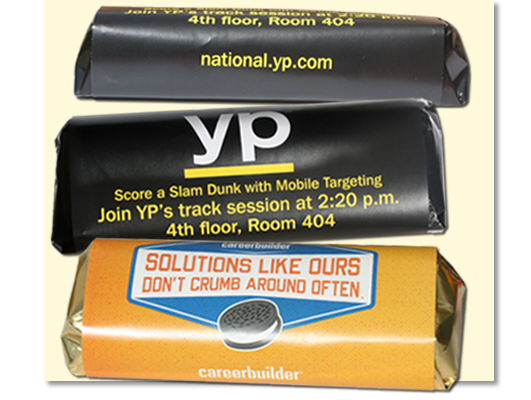 We customize any of these cookies by over-wrapping the factory-fresh sealed pack with a foil in the color of your choice. (For more info about foil, click here.)
Then we cover it all with your wrapper, giving it that classic look.
Our products are also available without foil.
To get some design templates for these cookies, click here.
GCKIE
- Customized Grandma's Cookie Packs
Grandma's cookies are baked with love since 1974, and come in many delicious varieties such as Chocolate Chip, Peanut Butter, Oatmeal Raisin and Chocolate Brownie.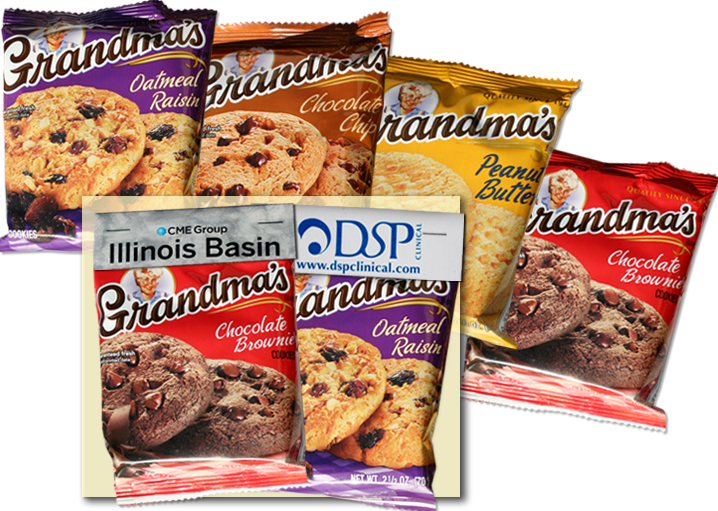 There are two large cookies in each pack, adding up to 2 1/2 ounces of of homemade memories. Customizable with headercard imprinted with your full color logo. For header card design template, click here.
---
To view more of our other products, check out our Catalog