NCB - Hershey Nuggets
Hershey "Nuggets" are solid little chocolate treasures in rich dark chocolate and creamy milk flavors. These gold and silver nuggets weigh in at just under 0.4 ounces.
The precious specimen come in four assorted flavors: dark chocolate with almonds, milk chocolate with almonds, milk chocolate with toffee inclusions and pure milk chocolate.
Foil colors: gold and silver.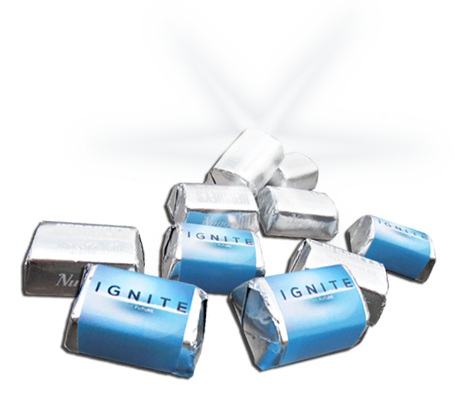 Re-branded Nuggets...
...make a great promotional gift. This tasty variety is the perfect size treat wrapped into your customized four-color wrapper.
All our wrappers are printed on high-gloss magazine quality paper using four-color processing. Before printing each order we will e-mail you a virtual proof for your approval.
Click here for a Nugget wrapper design template.
To view some of our other products, check out our catalog.