CFC - Chocolate Foiled Coins
These coins not only look shiny and authentic, - they also taste great. Made with 0.23 ounces of pure Belgian milk chocolate, we offer our foiled coins in six colors: gold, silver, red, blue, purple and green.
Dark Chocolate: Dark Mint Chocolate Coin in gold foil only.
To customize our coins you can choose from these options:
1) Embossing
Our customers can get any of our 1.5" diameter coins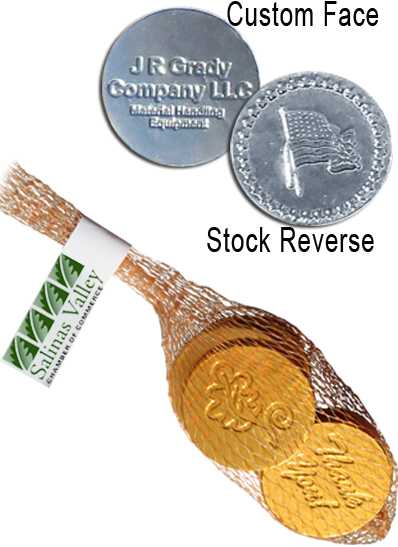 embossed on one or both sides. The design area is 1.25" in diameter.
Choose from over 200 free stock designs - or use your own art work. The die setup charge for each custom design is $75 (R) and up to 8 days production time. Stock designs are processed immediately without any delay or any setup charge.
Pick one type of coin or processing - or mix at no extra charge. Packaging options available include Mesh Net with custom label at .40 (R) pp or Organza Bag for .20 (R) pp.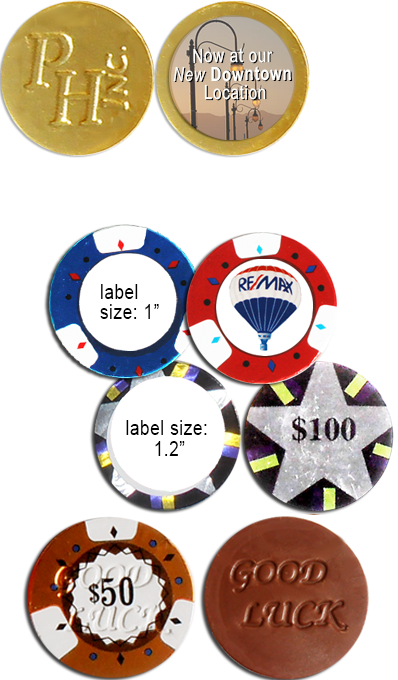 2) Color Label Option
Check out how a colorful decal can work for you instead of embossing. We can also offer you a combination of embossing one side of the coin, and placing a full-color label on the reverse.
3) Poker Chips
These casino style chips are bound to bring life into any poker party. Use them as is - or customize them with a full-color decal on one or both sides.
In addition to labelling we can also offer embossing as an option to get your logo embedded into the chocolate. That way your message reveals itself once the foil is removed.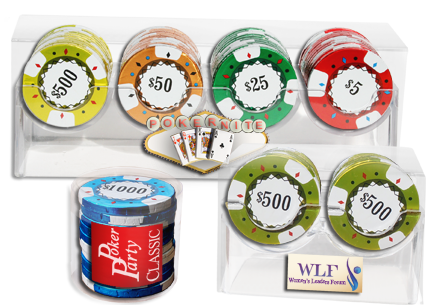 Our poker chips are available in bulk as well as casino-style chip containers. We currently offer single stack tubes of 10 chips, as well as two-row and four-row chip set racks.
We have over 7 designs of casino-style poker chips, and if you need more information, we will be happy to send you either a virtual or a physical sample.
Shown below are our two types of Pokerchips and their denominations...

...to view all of our coin types & colors, click here.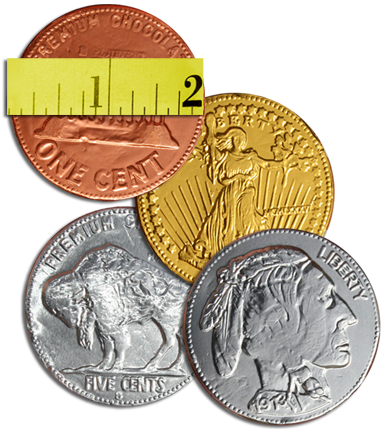 4) Supersize and realistic Coins
More than a novelty this chocolate currency always
rates high, since each 2" diameter coin delivers a solid half ounce of delicious chocolate.
Our coin selections include realistic colorful Kennedy half-dollars, Lincoln pennies great and small, Morgan dollars, Lady Liberty coins and more. To view our "Edible Collectibles" check out this page.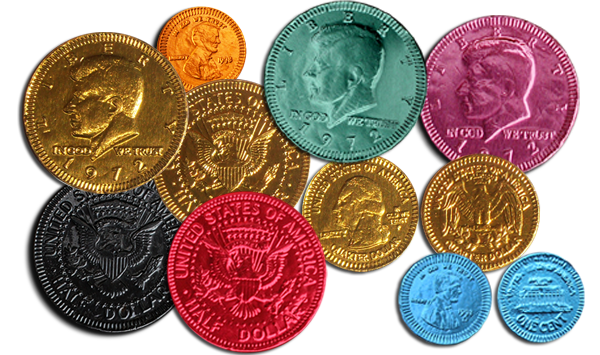 Authentic looking currency series includes scaled half-dollars, quarters and pennies and comes in sets. Available by the piece or in coin pouches or boxed as a gift set.
For a complete overview of all our types and colors of coins, click here.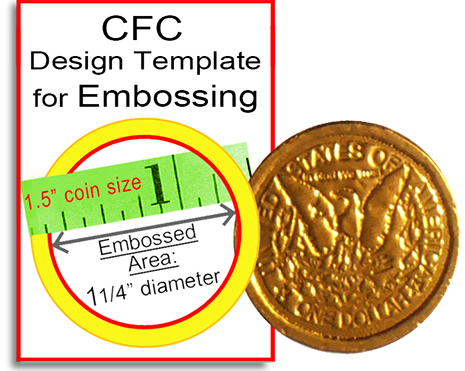 Layout and Design Specs...
... are available for all our coin sizes and types. The box to the left indicates 1.5 inch coins embossing specs.

For all other variations and different templates, please click here.
Click here for our free Stock Designs available to you.