The finest Gourmet Chocolates - from Squares to Clusters:

GGC - Ghirardelli Squares
The Ghirardelli Chocolate Company has been manufacturing premium Swiss chocolates in San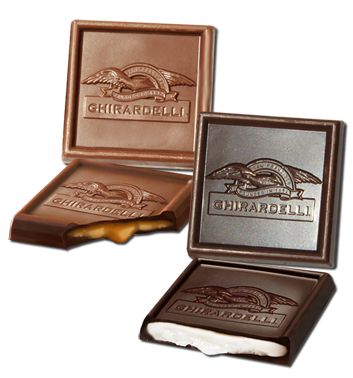 Francisco since the Gold Rush, making it one of the oldest continuously operating businesses in California.
For over 160 years now, Ghirardelli has been producing top-notch "chocolate delicacies" - in a unique process that invests extra time in roasting, refining and conching their chocolate to achieve a rich creaminess that sets the bar for taste and quality.
These square little treats are available in many flavors, like smooth Milk Chocolate and intense Premium Dark Chocolate, as well as with a great variety of gourmet fillings: Milk Chocolate and Caramel, Dark Chocolate and Sea Salt Caramel, Milk and Hazelnut Crisp, Dark and White Mint, Milk and Truffle, Dark and Raspberry ... and many more.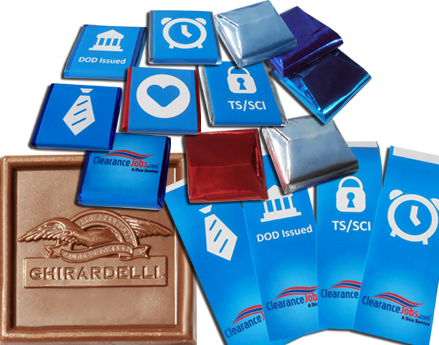 To match this exquisite taste with a classic look, we over-wrap each factory-sealed chocolate square with a foil, and then cover it with your custom wrapper.
(To learn more about Wrappers and Foils click here)
One Ghirardelli square measures 1 3/4" by 1 3/4" and weighs just under half an ounce each.
Click here for a wrapper design template
---
The ultimate in smoothness:
NES - Nespresso Squares
Small, square and divine, individually wrapped milk chocolate and dark chocolate squares with high cocoa content.
Petits Carrés made by Swiss Nestle's Master Chocolatiers taste just as fine as they look elegant.
The dark squares are enveloped in black paper-foil; whereas the milk squares are wrapped in a rich brown paper-foil. Both can be customized with your personal logo on our glossy magazine quality wrapper stock.
---
Finally, now available on both sides of the Mississippi:
Goo Goo Clusters
Born in Nashville, Tennessee, in 1912, the Goo Goo Cluster was the first combination candy bar the world had ever seen.
Made with milk chocolate, peanuts and layers of caramel and marshmallow, Goo Goo Clusters are still irresistible - and as tasty as ever.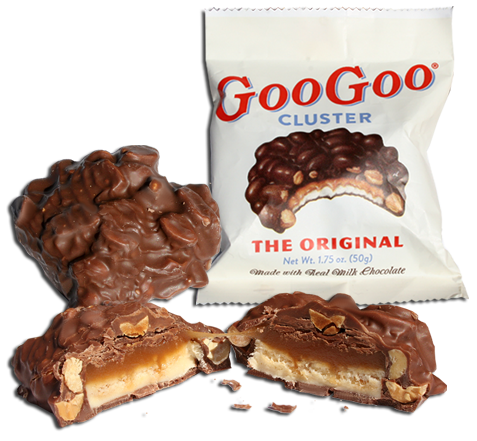 We personalize Goo Goo Clusters with full-color process header cards.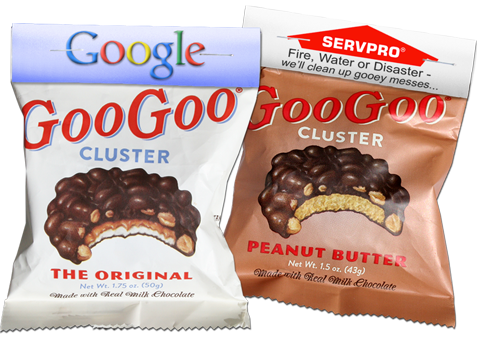 Goo Goo Cluster Design Template available right here.
---
"Hot" and new - for those who like it spicy:
Chili Squares
Chocolate & Peppers share a special bond in this rich chipotle chili flavored dark chocolate square. Not for the faint of palate, these spicy squares pack a punch yet possess a smoothness that comes from quality Redstone dark chocolate.
Comes in gold foil and can be customized with direct imprint or full color wrapper.