Molded Chocolates
Offering a wide variety of high quality Milk, Dark or White Chocolates in unique and fun shapes.
All molded confections are either Belgian or American-made chocolate in accordance with traditional Old World recipes, and are guaranteed to taste rich and creamy.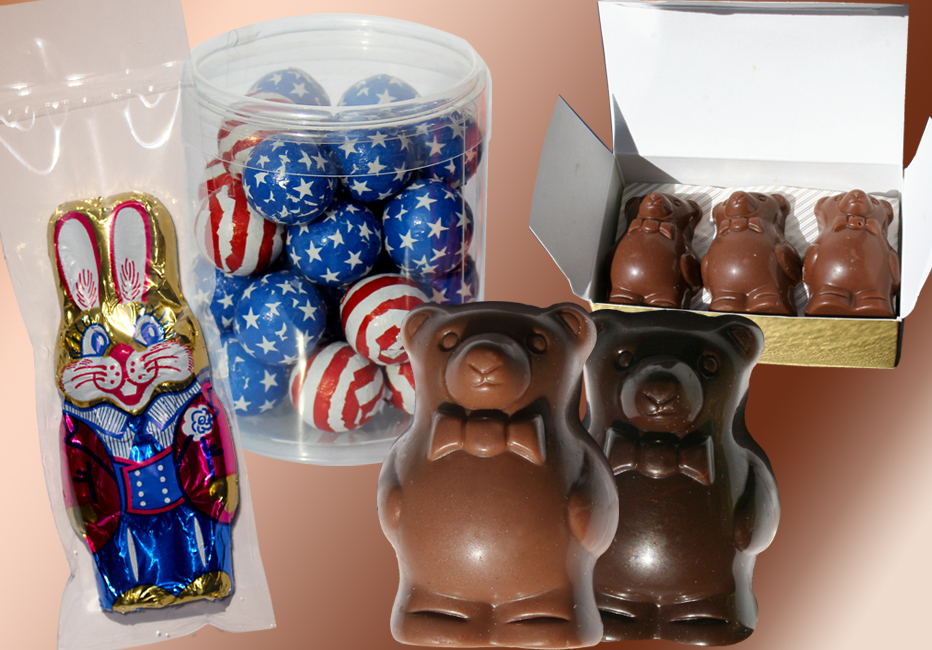 Enjoy all Seasons!
We observe all seasons and holidays with our sweet creations - from Mothers Day to the 4th of July - Halloween to Christmas and beyond. We have chocolate trains, bears, filled hearts, truffles and more - we have something for everyone. Give a sweet gift for any occasion!
Chocolate Trains,...

Planes...

and even Autos - and more

We have many stock mold shapes.

Low minimum quantities.




Solid milk chocolate foiled hearts
in different colors
(red, blue, green,
pink, silver, gold, fuscia, etc)

Chocolate cigars, hollow or solid

Solid milk chocolate
Easter eggs, available in
any container or bag
- or by themselves

Extremely smooth chocolate dice.

Easter 1

Easter 2

Easter 3

Premium Belgian Chocolate Easter Bunnies.
Great for giftboxes, custom containers or just app-
reciation.

Seasonal treats: from Santa to the Easter Bunny or our big turkeys, we have them all fresh each year - in small or large quantity.

Colorful, nearly lifesize
short deck of cards, made from wrapped and foiled solid chocolate

Chocolate "Band-Aids",

get a couple or a whole box.

A must-have for any real First Aid Kit.

Customize these tasty stars.
In red, blue, green, gold and silver foil colors.

Solid milk chocolate basketballs

Net bag of basketballs

Solid milk chocolate footballs, available in any container or bag
- or by themselves

Any of our Sportsballs
are great for fundraising
or for school sports.

We have low prices,
and we can help you with your cause.

Solid milk chocolate

soccer balls

Net bag of soccerballs

Pick your team's flag

Root for your team with our full-color net-bag flags.

Mix and match at no extra cost! We have low minimums.

Solid milk chocolate baseballs

Solid milk chocolate
tennis balls

Solid milk chocolate
golf balls

Pick any
sportsballs - or mix and match.
We have virtually unlimited packaging ideas with tins, glass, acrylic or plastic containers available to choose from.
Call us

about any specific confectioneries not listed here that you are looking for,
and we will do our best to find them for you.