SPLK - Special K Bars
Our healthy lineup of customizable nutrition bars includes "Kellogg's Special K" cereal bars.
These popular bars come in several textures and flavors, like Fruit Crisps (0.88 ounces) or the fiber-rich 90-calories Strawberry or Vanilla Crisp Bar (0.81 ounces).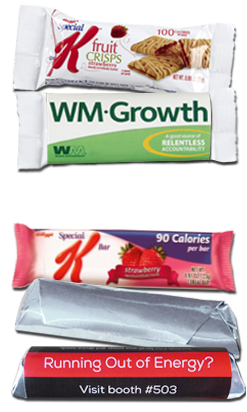 We only use fresh brand name products, while keeping the factory-seal intact. We simply over-wrap the original bar with your custom wrapper - while preserving the original wrapper underneath - as well as the factory freshness.

We can also cover the factory-sealed bar with a colorful foil and then over-wrap it with your custom wrapper.

(To find out more about when or where to use foil, click here.)

---
ZONE
- Zone Perfect Bars
All natural Zone Nutrition Bars by Abbott Labs provide energy and great taste!

We offer the 1.6 ounce Zone Bars in flavors like
Dark Chocolate with Almonds, Double Dark Chocolate,
Dark Chocolate Peanut Butter, Cookie Dough, Strawberry and more.

Let us re-brand these tasty Zone bars with your company logo, so you can hand out customized popular nutrition bars your customers will enjoy - and are sure to remember.

Get in the Zone!
Click here for a design template
For questions about foil, click here