CKC - Hershey Kisses
Hershey "Kisses" - an American staple since 1907 - in classic milk chocolate flavor. A kiss weighs about 0.16 oz and there are approximately 95 kisses to a pound.

We customize the flat bottom of each kiss with your full-color logo on a circular label of 0.75 inches in diameter.
Click here for a label design template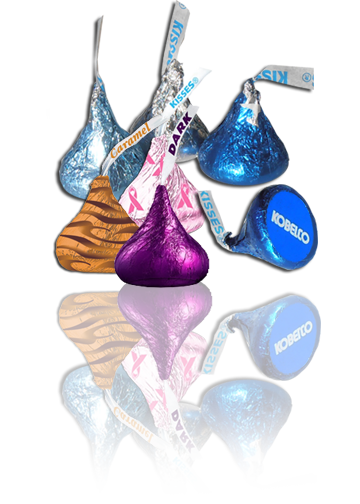 Other kiss flavors (and colors) available.
Please call to inquire about pricing.
---
CRC - Reeses Peanut Butter Cups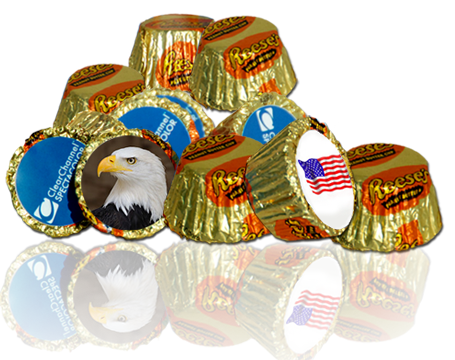 The perfectly smooth and creamy combination of chocolate and peanut butter.
We customize individually wrapped miniature size Peanut Butter Cups with your full-color label of one inch in size. The bite-sized gold foiled candies weigh in at a third of an ounce each; five peanut butter cups make up one serving of 1.55 oz.
Click here for a label design template
---
Design Central
All of our labels are printed on glossy label stock.
Creating your imprint graphic is easy for Kisses or Peanutbutter Cups: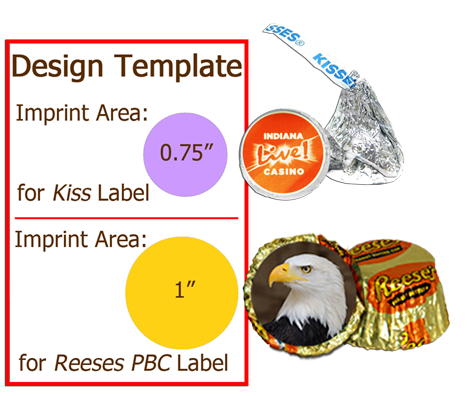 We are always ready to assist you with your design.