Bulk Candy
...get more
- for less!
Candy in bulk is perfect for big announcements or large events. We can set you up with:
• bags of candy,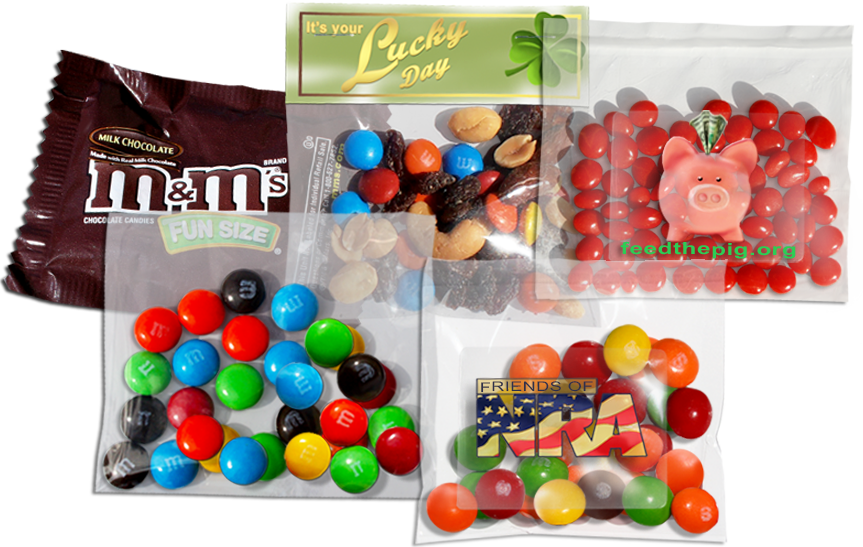 • candy filled tins,
• glass jars,
• plastic tubes and other containers.
We stock an extensive assortment of filling options of popular American bulk candy brands, such as M&M's, M&M Peanut, Runts, Sours, Jelly Beans, Red Hots, Spree, Gum, Mints, Nuts, Sunflower Seeds, Gummies, Tarts, Taffy, Candy Corn, Skittles, Rock Candy, Chocolate "Rocks", Hot Tamales, Reeses Pieces, Mike & Ike, Jolly Rancher, Good & Plenty, and much more...
---
• For a comprehensive list of available bulk candy fills, click here.
• To find out pricing for candy in glass or acrylic containers, check our price list page.
• To view our private label nuts and seeds selections, click here.
• We also carry some of the finest imported delights like Strawberries, Cookies, Pralines, Truffles or Haribo Gummies. (For a list of our import candy brands, please check our Internationals Page!)
---
Bagged Candy
Clear thick poly or colorful bags with view windows, from one ounce to 32 ounces.
Available in clear or clear with silver or gold backing, and in basic colors like red, wine red, light blue, dark blue, light green, dark green, pink, purple, gold, silver etc., as well as in patterns like stripes, dots or camouflage. Please inquire about seasonal patterns and colors.
All of our bags are sturdy and shiny. Personalize with colorful decal in different shapes.
1/2 to one Ounce Promo Packs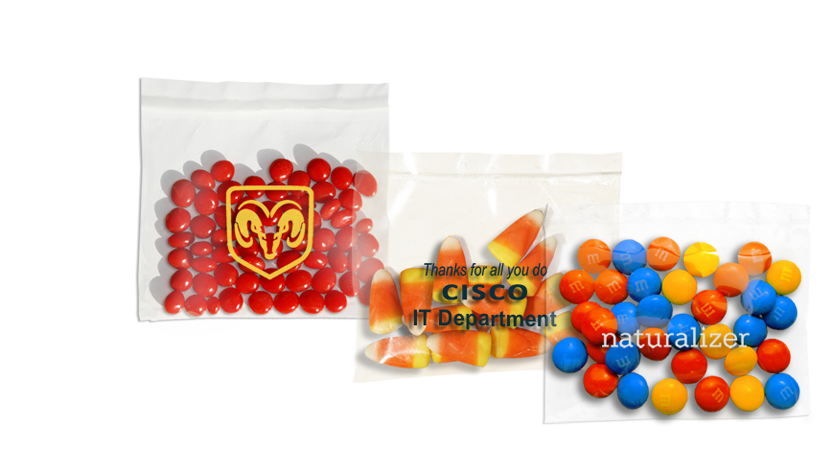 Our half-ounce to one-ounce bags are our smallest packaging solution and perfect for large scale promotions.
We can seal your favorite brand of bulk candy into clear cello bags and label it - or imprint it - with your message. You also have the option of a full-color header card. For sizing and design area click here.
We have low miminums!
Custom Assorted Packs (Goodie Bags)
For a low cost - great value idea we now offer "Appreciation Packs" -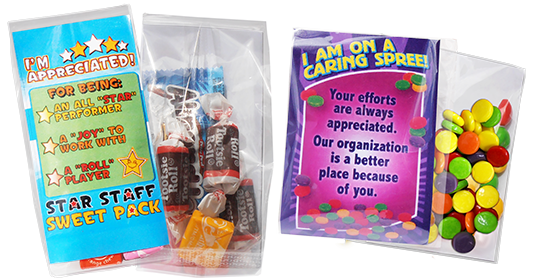 small packages full of mixed candy favorites.
Create your own colorful bag or use one of our stock designs with positive messages, and combine it with the candy of your choice.


- are rated the "World's best selling Candy"
[Bloomberg Business Week], these litte gifts will always be appreciated.
We got m&m's by the truckload,
all colors, any and all combinations,
- and we can bag them, box them
or fill them into tubes or cans for you.
The possibilites are limitless.
Call us with your ideas!
To find out about containers and price list for M&Ms and more, click here!
Glass Containers
We offer glass products from many manufacturers - among them Ball Mason, Anchor Hocking, etc - all designed to fit your budget.
Choose from a single-color direct-imprinted logo, or a high gloss full-color label to customize your container. Then decide on your fill.
Pricing dependent on container, amount and type of candy, as well as degree of customization. For more ideas and pricing please check our "bulk candy in jars" page.
Tin Containers
These durable tin containers are constructed of rolled tin and available in ten sizes, in silver or gold.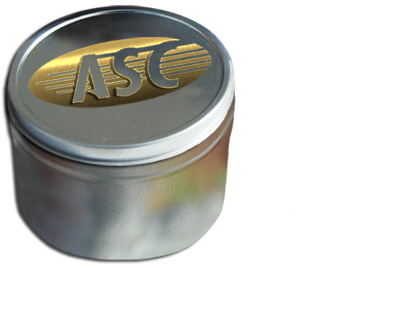 Choose from a single-color direct-imprinted logo, or a high gloss full color label to customize your container. Then decide what bulk candy we can fill it with.
To view some of our other products, click here for our Catalog.