LSHC - Lifesavers
Life Savers are "a hole lot of fun". These ring-shaped fruit flavored hard candies and mints have become an iconic American brand since 1912.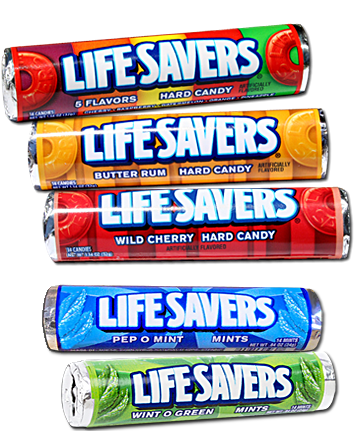 Each full-size roll has a net weight of 1.14 ounces and contains 14 disc shaped hard candies.
Choose from the following flavors:
• Five Tropical Fruit Flavors
• Wild Cherry and
• Butter Rum
We also carry the 0.72 ounce rolls in refreshing minty flavors of:
• Pep-O-Mint
• Wint-O-Green and
• Spear-O-Mint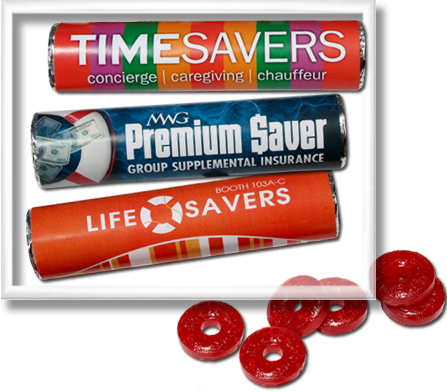 Our Lifesavers rolls come factory-wrapped in silver foil, over which we then apply your custom wrapper.
All our wrappers are printed on glossy, magazine quality paper. Before printing we send you a virtual proof, free of charge, for your approval.
---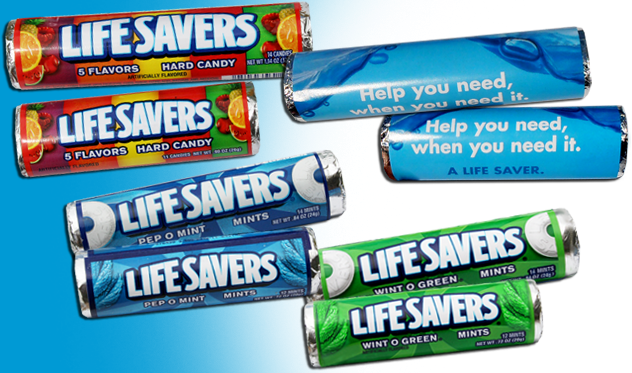 Lifesaver Compact Rolls:
In addition to regular full-size Lifesavers we also offer a medium-size roll containing 11 candies.
Available in 5 Flavors,
Pep-O-Mint, Spear-O-Mint and Wint-O-Green.
Design Central
For your convenience we have several wrapper design templates available. Our most popular wrapper style utilizes the classic Lifesaver rainbow stripes look.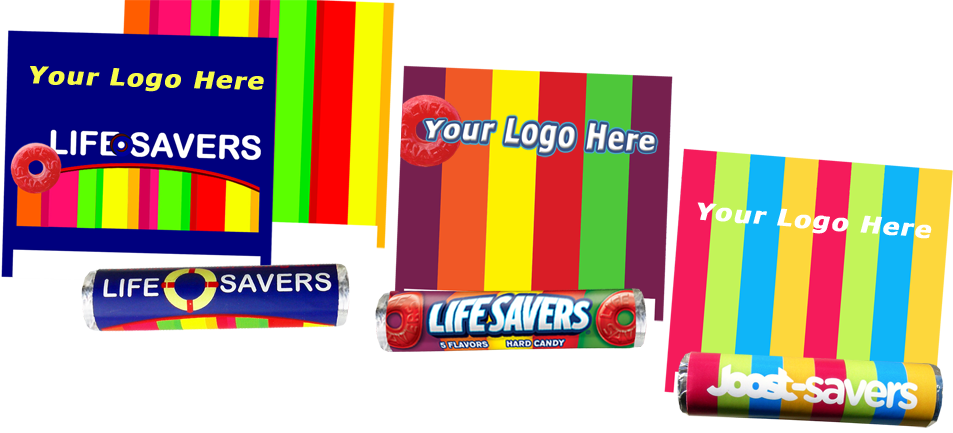 We will be happy to assist with all your design needs.
Click here for a wrapper design template
Looking for a great-value low cost give-away?
Consider Lifesaver Singles!
We can personalize Mint Singles or Five-Flavor Hard Candy Singles with a four-color label.
This brand-name candy comes individually sealed by Lifesaver.
All you need to do is e-mail us your logo or message to let us brand this favorite candy.
Everybody can use a Lifesaver every now and then!